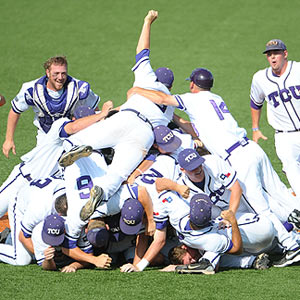 I'm not going to pretend that I'm a college baseball fan because I'm not. I never watch the sport and have rarely followed it. In four years at TCU, I went to one TCU baseball game. (I was much more of a TCU tennis fan, actually, as far as spring sports went.)
The "ping" of the aluminum bat in college baseball does my head in, and I've never seen a reason to follow what is for me essentially a less-exciting version of Major League Baseball, which I don't follow terribly closely, either. So, I wouldn't say that I'm jumping on the TCU baseball bandwagon; I didn't watch a single out of the regional or super-regional playoffs.
I am proud, though, of my alma mater. With a series win at Texas,
TCU clinched today
its first-ever berth in the College World Series. Baseball is a popular sport at TCU and long has been--it's easily as big as basketball there, if not bigger. (It doesn't hurt, of course, that our basketball team stinks, while our baseball team is evidently pretty good). I'm happy, then, for those fellow Horned Frogs who have followed the baseball team across Texas and the US in recent years and have dreamed of this day.
And, let's face it, the whole scenario played out pretty well. With conference realignment threatening to re-shape the college-sports landscape, and with many schools (including TCU) in uncertain positions, the baseball team's triumph has been a wonderful vindication. When the Southwest Conference broke up more than 15 years ago, the four schools that departed for the Big 12--Texas, Texas A&M, Baylor and Texas Tech--very vocally left us for dead.
But we didn't die. We struggled and persevered, and in 2009 our football team
went undefeated in the regular season
, won a conference championship and
made a BCS bowl for the first time
. Of the four schools that departed the SWC in the mid-'90s, only Texas and A&M have managed to go to BCS bowls--and A&M last went to one in 1998. Baylor hasn't played in a bowl game at all since 1994--back in the old SWC days. We've played in so many since then that I've honestly lost count.
It was with great pleasure, then, that I read that the TCU baseball team advanced to the super regional by beating Baylor badly in Fort Worth and then got to the CWS by winning a three-game series in Austin in front of a stadium packed with Texas fans. Add that success to football wins over Baylor and Texas Tech in recent years, along with the BCS accomplishment and the bowl games, top-10 finishes and MWC football championships, and suddenly we're not looking like SWC cast-offs anymore. We're looking like a pretty darn good sports school. (And remember, TCU is considerably smaller than UT, A&M and Tech and is also smaller than Baylor. And we don't get the guaranteed BCS money that they get, either, but our total sports revenue is still almost exactly the same as that of Baylor. The difference is that we earn it.)
I can't begin to keep up with the ongoing saga of conference realignment, and I'm not going to pretend that I'll follow the TCU baseball team's fortunes in Omaha outside of looking for scores once in a while. TCU football, of course, remains a passion. But I'm proud of all of my old school's sports accomplishments, simply because they all seemed absolutely impossible when I was in college in the mid-'90s and the ex-SWC traitors left us to rot.
Ours is a story of perseverance, commitment, belief and overcoming obstacles. As cheesy and Hollywood as all of that might sound, it's true. By achieving BCS and CWS berths in the same season, TCU proved that it could succeed against massive odds and harrowing competition. We also proved that the death of the SWC didn't kill us--in fact, it brought us to life. We're the best untold story in sports right now. I'm not going to start watching college baseball, but I still couldn't be more proud. Go Frogs!