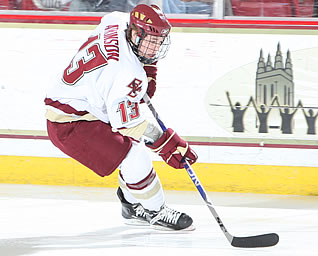 This isn't exactly rare. BC has made the "Frozen Four"--the final four of the NCAA hockey tournament--nine times since the 1997-98 season. This season marks the ninth appearance, with the Eagles having outlasted Yale tonight
by an astonishing score of 9-7
to advance to...Detroit. Ahem.
The Eagles won the national championship in 2001 and again in 2008; in the latter season, I actually went to one of their games--a loss to Providence. Still, I got to see what would be a championship team play live, and that's pretty unusual for me. In fact, I think it was a first.
In case you're wondering, I didn't get to a Red
Sox
game in 2007, and I was still living in Paris in 2004. I went to my first Celtics game this season, and I've never been to a Patriots game. The Bruins...well, I've been to plenty of their games, but let's just talk about something else. Oh, by the way, I never saw the '90s Cowboys Super Bowl teams play live, either.
I got to see a BC team defend its title in 2009, but it wasn't much of a defense. Last season was a rebuilding year for the Eagles--they didn't even make the NCAA Tournament. This season, though, they're back to the heights (pun intended, sort of) that Coach Jerry York has them accustomed to reaching. And I'm really hoping that they will win it all, although I have no idea what their chances are.
Why am I so interested? Well, for one thing, I've really
adopted BC hockey
as both my winter sports fix and a pick-me-up during the cold-weather season. So, I'm a fan. I see more BC hockey live than any other sport or any other team. Also, let's face it--2010 has already been a rough sports year. The
Fiesta Bowl didn't work out as planned
for
TCU
; the
Bruins are mediocre
at best (again), and (worst of all by far)
West Ham
is fighting what
appears to be a losing relegation battle
that looks worse with every passing match lost.
And there's more: Wade Phillips still coaches the Dallas Cowboys; the Patriots are sinking into mediocrity, and I
have to be a New York Jets fan
now. I
adopted the Kansas City Royals
at my own risk and with no regrets, but they're not going to go anywhere this season. The New York
Mets
are always bait for massive disappointment. Even the Celtics are looking older all the time. At least there was
France's wonderful Grand Slam
, but European rugby seems (and is) pretty distant at this point--even if I did really enjoy watching France beat England to win
le
Grand
Chelem
.
So, I need BC hockey to do well for my sports sanity. But more than that, I really want to have been a part of a championship season, even just as a fan in the arena. Again, I've never really done that before--I don't count the one BC game I saw in 2008--and I made it to six or seven BC games this season. (You could probably count the blog entries about BC hockey here and get a specific number. I'm not inclined to do that right now...) In that sense, I feel as though I invested in BC hockey this season in a way in which I have rarely been able to with any sport in the past--by going to games regularly. (Those $5 and $10 tickets helped a lot with that effort.)
Plus, what could be better than seeing a team on its way to a championship play live multiple times and then watching that team defend its title the next season? Isn't that what being a sports fan is all about? Isn't that the ultimate reward? Granted, BC hockey has already had a great season. A
Beanpot
, a Hockey East tournament championship and a Frozen Four make for nice additions to the program's long list of honors. As a fan, I heartily applaud everything that the team has already done. And if BC goes out in its first game in Detroit, I won't be too upset about the result. I'll move on pretty quickly. But if the Eagles can manage to bring a title home again, I'll be very, very happy. And sportingly speaking, I could use some of that.